Shanghai launches multi-layer co-extruded heat shrinkable film
In China, the annual slaughter of cattle and sheep is about 180 million, and the use of beef and mutton packaging film is 8,000 tons. However, the traditional three-layer co-extruded composite film for food packaging materials, due to imperfect technology and product structure, is likely to contaminate food and endanger human health. The multi-layer co-extruded heat shrinkable film developed by the Shanghai Municipal Intellectual Property Service Center and relevant research institutes is non-toxic and harmless, so that the food shelf life is more than 70 days, and it is extended by about 40 days than the traditional cling film, effectively improving the freshness of packaged foods. .

According to the Shanghai Intellectual Property Service Center, this multi-layer co-extruded heat shrinkable film is a high-barrier polymer with nylon as its main component. The film is colorless and transparent, the film folding diameter is 200-500mm, and the film thickness is 0.04-0.08mm. It has a good body-fitting and extremely high oxygen-resistance and water-blocking performance. Wrapping food with it can isolate the food from the outside world. Water, odor, and grease are not lost.

The film has a good shrinkage, shrinkage of 15-50% in the low temperature process, you can instantly wrapped the item (slicing chicken or meat products). Excellent toughness, wear resistance, oil resistance, a wide temperature range (40 °C -120 °C), making it suitable for a variety of products, such as beef and mutton, chicken, geese, fish, and snack foods and other fresh frozen packaging. The patented results also have strong anti-ultraviolet radiation performance, so that the packaged food is not easy to change color, non-toxic and tasteless, is a truly green packaging material. This product is currently the highest added value in the same industry series.

This is a good machine for rewind many small paper rolls coming from Paper Rope Machine (the samll roll on the rope making machine is about 1200 meters) into one bigger paper roll with 3500 to 5000 meters longer. In this way, the big paper roll is convenient to be put on Paper Handle Machine to make handles. Bigger and longer paper roll means continuous and non-stop production and high efficiency and raise the quality and reduce the defectives. It is a very good supporting machine for paper handle making machine.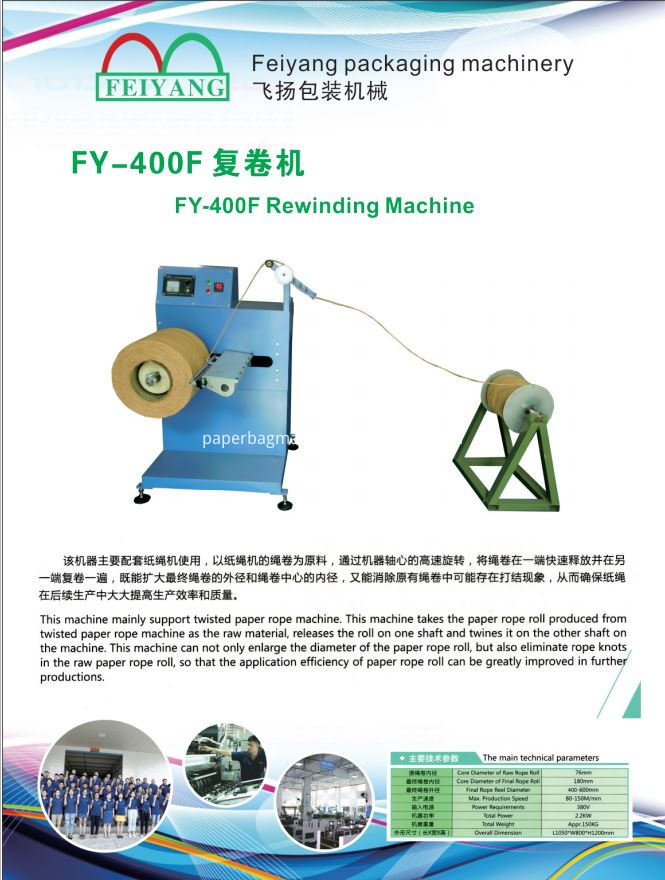 paper rope rewinding machine, paper rope rewinder, rewinding maching, rewinder, paper rope, paper cord
DongGuan FeiYang Packaging Machinery Equipment Co., Ltd , http://www.feiyang-machinery.com