Enterprises must strengthen their confidence and actively meet the challenges
Recently, the author visited some large-scale paper packaging companies and contacted some paper packaging companies during the Asian Packaging Conference. He listened to the views of business leaders on the impact of the international financial turmoil on the paper packaging industry and measures taken.

Most paper packaging companies reported that the financial turmoil had no direct impact on the paper packaging industry, but rather was an indirect effect on customers. The main performance is that the demand for carton boxes for export supporting products has decreased significantly, the rate of production cuts is relatively large, accounting for about 20% to 30% of export packaging cartons and cartons; the demand for domestic demand cartons has decreased, mainly household appliances and clothing. , dairy products, food, fruit, etc.; payable risk is relatively high, due to the domestic part of foreign investment, joint ventures, domestic-funded enterprises sluggish and shut down, close down, resulting in non-payment receivables or bad debts, to bring economic losses to paper packaging companies Big. In 2008, the vast majority of paper packaging companies benefited from the lubrication of slopes. The main reason was that in the first half of 2008, the use of packaging paper increased substantially, and the costs of transportation, fuel, auxiliary materials, and labor costs increased, causing rising production costs. In addition, sales fell after October of that year. Take some measures to make up for it, but corporate profits are still falling.

With the global financial turmoil, the global economic crisis will inevitably bring unavoidable impact on China. The Central and State Council adopt a series of policies and measures to minimize the impact of the financial turmoil.

Since October 2008, the global financial crisis has gradually reflected in the paper packaging industry. What measures and measures should be taken by the paper packaging industry? All paper packaging companies must think, investigate, analyze, respond quickly, and propose countermeasures. In 2009, the situation of paper packaging companies was even more difficult. How to overcome the difficulties and enterprises must strengthen their confidence and actively respond to challenges. The author contacted the chairman and general manager of some paper packaging companies to learn about some situations and put forward some personal opinions.

1. Introduce international and domestic advanced equipment, improve automation, high efficiency, high speed, high quality, and increase productivity. For example, Shanghai Xinqing Packing & Decoration Co., Ltd. has introduced automatic glue sticking machines and fully automatic nail box machines from Japan and South Korea in recent years. It has reduced more than 100 employees and saved employees more than 2 million yuan in wages. In 2008, profits increased. At present, it is an excellent opportunity to purchase advanced equipment. The purchase of equipment can enjoy related policies such as VAT exemption and tax refund.

2. Merge and reorganize, strengthen management, and increase overall productivity. For example, Fujian Huafa Packaging Group reorganized the merger of four paper packaging companies around Xiamen to take Fujian Huafa Co., Ltd. as the main body, and merged with other surrounding three paper packaging companies to conduct centralized management, centralized production, and large-scale production. , Integrated management, unified leadership, a greater reduction in personnel, reduce production costs. After the merger and reorganization, the number of employees from the original four factories was reduced to 750 employees, and wages were reduced by about 9 million yuan, reducing production costs. It is estimated that sales profits in 2008 could reach more than 8%.

3. Premier Wen Jiabao and Vice Premier Zhang Dejiang recently issued important instructions on the work of mechanical and electrical product packaging, wood and wood, and the main leaders of the State Ministry of Industry and Information issued an appeal to use paper instead of wood to save the country's timber resources and reduce packaging costs. The author believes that improved packaging is a directional issue. For example, Wenzhou Dongjing Group has improved its packaging for Delixi Mechanical and Electrical Products, starting with high-strength, low-weight, light-weight, improved packaging, and reasonable ingredients. It saves packaging costs of 1.9 million yuan per year for a customer and enhances its products. Added value to achieve a win-win situation.

4. According to production needs, expand domestic demand, product transformation, add equipment, innovate and develop new products, expand production scale, and increase production and sales. For example, Zhejiang Shengda Group aimed at the market demand, newly established Shengda Color Printing Preprinting Co., Ltd., purchased seven-color preprinting machines and preprinted corrugated cardboard production lines, flattening die-cutting and die-cutting machines, and automatic glue sticking machines, etc., on November 26, 2008. The company officially opened and put into production on the same day; for example, Zhejiang Shangfeng Group carried out product transformation in accordance with market demand, invested funds in 2007 to expand color printing projects, and innovated new products and special paper packaging according to domestic demand, and green furniture products, gained market recognition, and expanded production. Make up for the impact of the financial turmoil.

5. Baoxing Group, Baoxing Group, and the expansion of domestic demand. The corporate groups represented by Xiamen Hexing and Pinghu Jingxing are developing their cross-regional paper packaging companies. Xiamen Hexing has developed 13 paper product subsidiaries nationwide. In 2008, it also established a new cartons color printing company in Chongqing. It plans to acquire 120 acres of land in Hefei, Anhui Province in 2009. New cartons of color printing companies are currently under preparation. Pinghu Jingxing Paper Co., Ltd. has developed a number of paper packaging companies with paper-based packaging. In Chongqing in 2007, two carton color printing companies were established in Xinjiang in 2008.

The above examples from seven companies illustrate that in order to solve the impact of the current financial turmoil on paper packaging companies, companies take effective measures and countermeasures to compensate for the impact of the financial turmoil and are worthy of peer learning and learning. Because of the actual situation of different companies, it is necessary to carry out serious investigations and analysis, and propose measures and countermeasures. They must go out and learn and understand the situation of their peers. They must not be reluctant to shut themselves up, they should brainstorm ideas, listen to opinions, and learn from peers.

Paipai series OEM Cat Food have ocean fish flavor and beef flavor, they both have adult food and Kitten Food.

High degestibiliry, beneficial to urinary system, proper salt content, no harmful additives, can satisfy the discerning taste.

These cat food are suitable for all kinds of cat. The usage are: beauty hair, remove hair ball, aid digestion.

Our factory has been in this line for more than 15 years, we undertake OEM business, include food and package.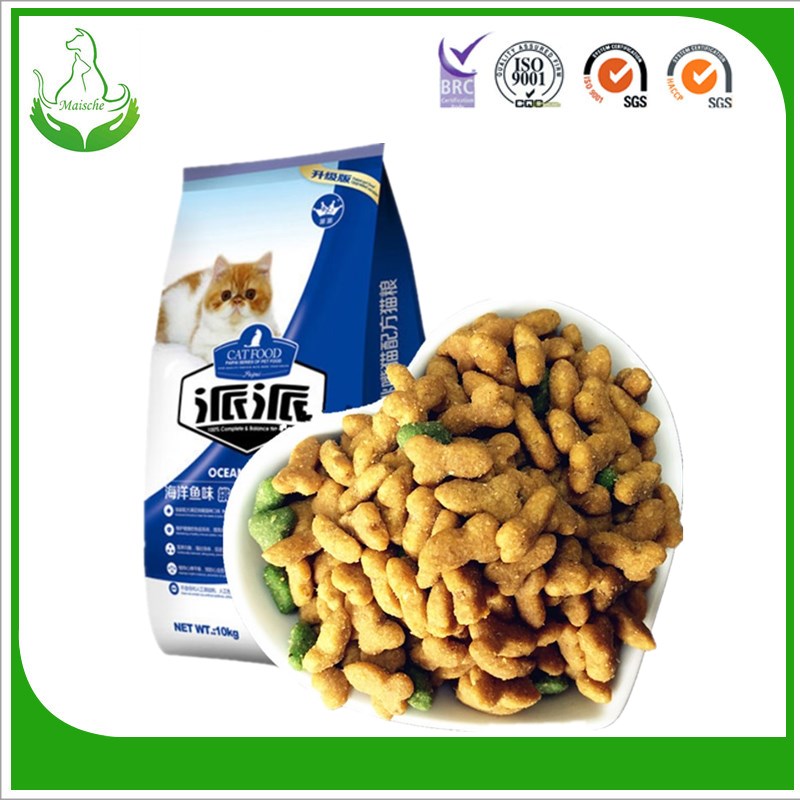 Real Nature Cat Food,Organic Cat Food,Canned Cat Food,Food For Cat

Hebei Maische Pet Food Co., Ltd. , https://www.petfoodchina.com